Mind and Movement
Shirley Dockstader
...almost magically I could feel the chi-field breathing and re-energizing me...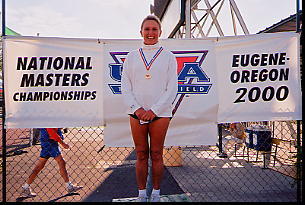 Shirley with her gold medals.
Dear Luke and Frank:

When I saw you at Ft. Mason in San Francisco this past spring, I mentioned that I was going to do a gong the Body & Mind Method as part of my race-walking training program for the Master's National Track and Field Meet in Eugene, Oregon in August. You said, "let us know how you do." So I am.

Thanks to ChiLel I came home with two gold medals. Adding a daily gong of the Body & Mind Method to my practice greatly improved my flexibility, energy, and stamina. In race-walking technique, arm strength and shoulder flexibility are very important. And anyone who does the Body & Mind Method knows how the first part of the form challenges your arms and shoulders!

In training for race-walking competition, keeping the kwa and the SI joint open and lubricated is critical, for speed in this sport depends upon fast and flexible hip turnover. The hip rotations and opening front and back kwa stretches are ideal exercises for race-walking hips. Add wall squatting to the equation and you have a very powerful program.

Then there is balance, Achilles elasticity, ankle strength and flexibility, and leg power. All of these areas are addressed in the Body and Mind Method. It is almost as if someone had sat down and custom designed the form for race-walkers.

I led some of my fellow race-walkers in training through a few of the exercises and the response was enthusiastic. One of them said it freed her from chronic sciatica pain. They all felt relief from hip stiffness and ham string tightness. They are asking for more.

As important as the physical preparation was for me, the basic theme of ChiLel...the releasing and absorbing, was equally valuable. Throughout both the 5K and 10K races I opened myself to the chi-field in all six-directions and let the chi current carry me. If I began to feel tired I would say to myself, think Blue Sky, Think Body, release, absorb. And almost magically I could feel the chi-field breathing and re-energizing me.

So, thank you Luke and Frank and ChiLel for Body & Mind Method's contribution to my gold medals at the Nationals this summer; but more than the medals, for the joy and confidence I felt in my training and during the races.