PARALYSIS
Please Don't Laugh at Me
For thirteen years, Ms. Li walked on crutches, mostly confined to bed.
"My paralysis was caused by drug poisoning. Even though I was hospitalized for three years, still the doctors couldn't do anything for me. At home, I would sit in my bed most of the time, waiting for others to serve me."
"Could you move around?"
"Very little. My feet felt numb as though I were walking on cotton. My right shoulder and back were pressed together as a result of walking on crutches. My internal organs were not functioning well due to lack of proper movement. Indeed, at the prime of my life, I had become a liability for my family. I longed for a miracle that would free me.
"Then one day in 1986 I read Lao- shi's book on ChiLel. From his book, I learned the simple movements to deliver chi to myself. Yet the idea that I could improve my condition or even to stop being a cripple was unthinkable. People would think I was crazy. So I kept ChiLel a secret. I begged people silently not to laugh at me for trying to do the unthinkable.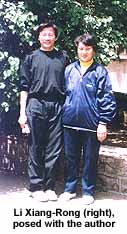 "After two years of practicing the movements alone, my condition improved enough so that I could walk around my house with a stick. When I could finally walk to the park, I joined the ChiLel class that met there.
"On my first day, the teacher, surprised to find I had a lot of chi, asked 'You've just started, how can you do the movements so well?'
"When I told her my story, she embraced me and told me that I was finally home. With this sympathetic group, improvements were immediate. I accomplished more in two months than in the years I had spent practicing alone. Now I can walk freely and my body has regained its original form. Indeed, I have better health than the average person. My dream has finally become a reality, and I am free at last!"
I thanked Ms. Li for sharing her story with me. At the same time, I wondered how many people in this world are being laughed for daring to do the "unthinkable," bringing miracles to themselves
---